It was a truly remarkable event – no self-praise intended – with three of the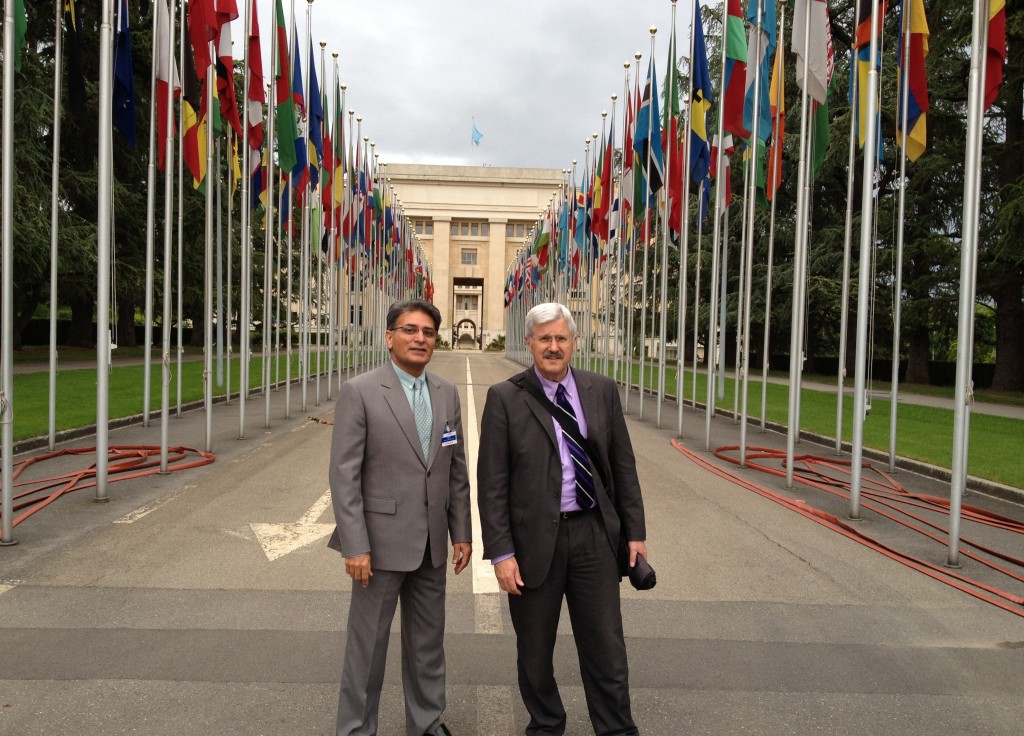 world's most successful 'administrators' of Universal Service Funds, from three continents, at one place, sharing what could be accomplished and what could be learned from the experiences. The occasion was 15th session of UNCTAD Commission on Science and Technology for Development (CSTD) in Geneva, 3rd week of May 2012. And the three main speakers were, Kofi Attor from Africa, Guillermo Cruz from South America and myself from Asia! We were helped by Darrell Owen from USAID and David Townsend, the consultant to GBI (Global Broadband and Innovations) Program. For those who do not know about GBI, it is a two-year old initiative of USAID that has active engagements in supporting several Universal Service Funds (USFs). In April 2012, GBI was instrumental in launching the new Broadband Partnership of the Americas (BPA) in Latin America. The GBI program continues to expand its footprint in supporting rural ICT expansion programs.
We all flew-in from different parts of the world and converged at Palais de Nations Geneva. And for those who do not know Palais de Nations, it houses UNOG – the 2nd Headquarters of UNO (first one being in New York). Palais des Nations is an outstanding testimony to twentieth century architecture with it's palatial buildings and vast immaculately maintained royal gardens. Originally it was headquarters of the predecessor of UNO – The League of Nations. In 1946 the League of Nations was dissolved and United Nations took over Palais des Nations. It is the world's most active international conference center, hosting close to 9,000 meetings a year. It is also the headquarters of UN bodies that work in the field of peace and disarmament, human rights, humanitarian assistance, economic development, and science and technology.
At such a distinctive place, half of the day of 23rd May 2012, was reserved for us! The three-day session of UNCTAD-CSTD was attended by quite a few Ministers of Science and Technology and other high ranking officials from various countries. Pakistan was represented by the Minister of S&T Mr. Changez Khan Jamali.  Where a Minister could not come due to other preoccupations, the respective country-staff of UN Missions in Geneva attended (like Pakistan's permanent representative Mr Zamir Akram attended when the Minister wasn't available on 23rd May 2012).
Our half-day session was kicked off by ever-charming Andrew Reynolds. Darrell Owen then introduced the team and explained that through adopting best practices of USFs, combined with a newer generation of technologies and innovative business models, we can "bend the curve" – allowing ICT connectivity to the 'final billion' effectively and faster. He explained that the following USF presentations provided an opportunity to put forward best practices that have and are bending the curve!
Kofi Attor, the Administrator/CEO of "Ghana Investment Fund for Electronic Communications", then came on and described in detail what has been achieved in Ghana over the recent years. It was interesting to know that in Ghana, the Fund is also used for ICT training of Security personnel (involved in disaster management) as well as Prisoners! It is also interesting that in Ghana the Board of Directors of the Fund has more Private Sector members than Government.
Guillermo Cruz, the former boss of 'Compartel', the Colombian USF, informed that, starting in 1999, Compartel has provided Broadband to 25,000 Schools and 2,700 Telecenters and fiber connectivity to four Islands. Guillermo also talked about some failures (like the failed Satellite Project) and of challenges (like those of sustainability, efficiency and empowering communities).
On my turn I informed the audience what USF Pakistan accomplished, followed bydescription of Key Principles of USF, which included explanation of the unique Model of USF Pakistan where the Private-Sector and Government sit together as part of the Board of Directors and decide all matters jointly. Interestingly applauding a speech/presentation is not a tradition at UN Conferences however all three presentations were loudly applauded by UNCTAD delegates.
David Townsend then spoke on "USF Version 2.0″ laying stress on sustainability, on linking schools, e-Government and e-health, on re-thinking the role of telecenters and demand-side stimulation. He also pointed out commonalities of USF programs that are successful. All of them operate with the private sector fully on board! He also presented the innovative idea of using Universal Service Funds as Venture Capital / Investment Funds!
The session was then wrapped up by Darrell Owen, who gave a glimpse into some of the newer technologies with potential – like low-power, on-demand small-cells using off-grid clean energy – and newer Business Models as the way forward. Darrell spoke of utilizing shared Fiber backbones as well as unlicensed wireless terrestrial and/or Satellites for backhaul.
Comments and questions from UNCTAD delegates sitting in the audience followed. One Member after the other spoke in praise of the presentations and the value of these experiences towards accomplishment of the dream of Universal ICT Services in developing countries. This inter-action later continued throughout the lunch-break. In the discussions it came out clearly that the ICT revolution worldwide is being driven by people-centered, peer-to-peer initiatives and applications, not by top-down government strategies. Thus, the new development policies need to reflect this decentralized, bottom-up reality, enabling average citizens to take control of their own destiny via ICTs.